Students, staff, and faculty are required to have a parking permit at San Jacinto College. Parking permits are free on all campuses. Free parking decals are expected to be placed on vehicles and parking on campus without a a permit is considered a violation.
"It's very important for students to have their parking permits adhered to their windshield, as
our police department utilize the information to track students for emergency purposes," says Vera
Garcia, a San Jacinto College Business Office Manager.
Students and employees can get a parking permit on campus "at any campus business office," says Garcia.
A student ID or picture ID is required.
"They must bring their plate number as well," says Garcia
Parking permits do not need to be renewed.
"Once your vehicle has the the permit, you will no longer need a new one. Unless something happens and you no longer have the permit on your windshield," says Garcia.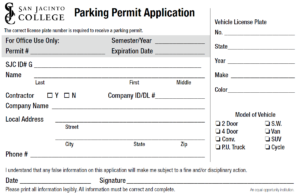 Students who fail to obtain a parking permit are considered to be in violation. The first violation will be a fine of $7. The second violation is $28.
Students can appeal a ticket by completing a form.
Visitor parking is available. Visitors must park in a designated area b for visitors only.
If a student or employee parks in a visitor spot, they will be fined $15.
Parking in accessible parking or a no parking zone is a fine of $25 dollars.
For more information, visit the Parking and Permits website.