Sports Day encourages student activity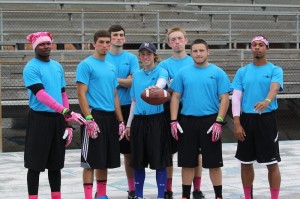 May the odds be ever in your favor.
San Jacinto College is offering students a free way to get fit while having fun and making new friends.
The College's biannual Sports Day will take place on all three campuses Thursday, Feb. 27 where students, faculty, and staff are encouraged to participate on a team of any sport regardless of experience.
The goal is to promote fitness and friendship with no added pressure; just friendly competition. Sports play begins at 8:00 a.m. and continues with tournaments throughout the day. Past events have drawn as many as 250 students.
Campus Recreation (Rec) Staff Assistance Mary Shelley said, "It's a way to get students involved, let them try something new."
Meanwhile, even seasoned athletes like basketball player Willie Magnum plan to participate in Sports Day.
"I will definitely be attending Sports Day for the extra practice," Magnum said, "and the opportunity to better my performance as a basketball player."
Student Monica Hughes said she did not realize the College offered opportunities for non-athletes to participate in a team sport activities.
"I had no clue San Jac had a sports day," Hughes said. "I thought in order to play a sport, you needed to try out. I'm really excited to go check it out."
Campus Rec offers a variety of sports including volleyball, flag football, soccer and many more to play on a weekly basis with no tryouts needed.
Further information can be found at www.sanjac.edu/campus-rec. There is no charge for participation.
Leave a Comment