San Jac student's winning essay opens door to Paris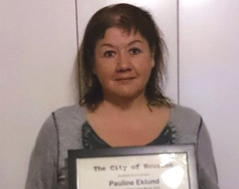 A non-traditional San Jacinto College South Campus student beat out other budding writers to win a trip to Paris in the OPEN THE DOOR essay contest. The contest is a part of a larger, citywide writing and photography contest sponsored by OPEN THE DOOR in Houston.
Pauline Eklund, whose essay is about her personal experience about doors opening in her own life, chose the trip over a $1,000 cash prize and was honored during a ceremony Nov. 7 at the Julia Ideson Library in downtown Houston with Mayor Annise Parker in attendance.
"I was quite shocked to actually win," Eklund said. "My essay was about my difficult journey from hopelessness through the door to education and spoke of the wonderful Dr. Robins, and achievements that have come through this awesome process."
Eklund entered the contest after hearing about it from South campus English professor Greg Smith, with whom she works as a supplemental student instructor.
"I was excited to enter this because of the focus of this event," Eklund said.
Smith said he encouraged all of his students to enter the contest. He offered to proofread their essays unaware Eklund decided to enter until after she submitted it.
"Once Pauline shared her essay with me via email, I thought it was a really strong one, and had a great chance of winning," Smith said.
"What I found memorable about Pauline's essay," Smith said, "is how she knocked on the doors of education and those doors started opening for her one by one; and about how she first got the idea to pursue a higher education when she came up to San Jac to enroll her daughter."
Smith said he and Eklund were both surprised and overjoyed after hearing the big news.
"When I found out that Pauline had won the $1000 essay contest," Smith said, "I went into the class where Pauline has the most students who attend her SI sessions, and I shared the news with the students. Many of the students started clapping when Pauline later came into the room."
Eklund said her essay is a small piece of all the incredible experiences she encountered at San Jac.
"Every door that opened, I promised myself that I would walk through because I had no better plan. I am always amazed and honored that opportunities continue to accost me at every turn," she said.
In her award-winning essay, Eklund writes, "I dreamed I was dragging my baggage down a long, dreary hallway which was my life.… I do not know what the future holds, but I no longer fear stepping through that door into the unknown."
"I hope to meet another sad woman who is warily taking one-step at a time," Eklund concludes her essay. "As she looks both ways before crossing her threshold, I will put out my hand to this fearful student, give her a big smile and ask, 'How can I help you?'"
Leave a Comment