Phi Beta Lambda Offering 'Real World Experiences'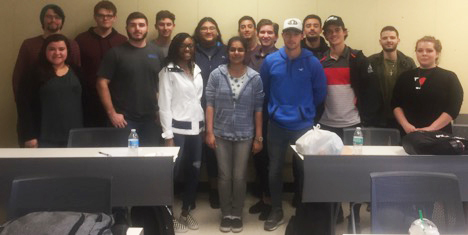 Curious students looking for extracurricular activities can find a wide array of clubs at San Jacinto College that cater to the interests of a diverse student population. Phi Beta Lambda (PBL) is a campus club for business students wishing to supplement their educational experience.
South Campus Accounting and General Business Professor Kristy McAuliffe, who serves as the club's adviser, said PBL is the largest career student business organization in the world and is aimed at serving business majors through multiple avenues.
"FBLA-PBL's (Future Business Leaders of America-Phi Beta Lambda) mission is to bring business and education together in a positive working relationship through innovation, leadership, and career development programs," McAuliffe said.
San Jac's PBL chapter organizes service projects and fundraising campaigns where members have the opportunity to serve the community. Currently, the group is taking donations for members who were affected by hurricanes Harvey, Irma and Maria, as well as joining efforts organized by the March of Dimes.
"Members work with the March of Dimes to help end premature births by participating in awareness campaigns and the March for Babies fundraiser," McAuliffe said.
Furthermore, the South Campus chapter will host PBL's State Leadership Conference in April on the Maritime Campus where all the Texas PBL chapters will participate in academic competitions. Individuals interested in joining the club must be current students of San Jacinto College and have a minimum 2.0 cumulative Grade Point Average.
Zane Merrell, a member of Phi Beta Lambda, said he joined the club to compete in competitions and participate in networking events that enhance his resume and transfer applications.
"It will show them that I did more in school," Merrell said, "and I will have more 'real world' experiences with me."
Phi Beta Lambda meetings take place at 3:00 p.m. on Tuesdays in Room 14 of the main Academic Hall building (S8) on the South Campus.
Leave a Comment