Showcase Features Central Faculty Art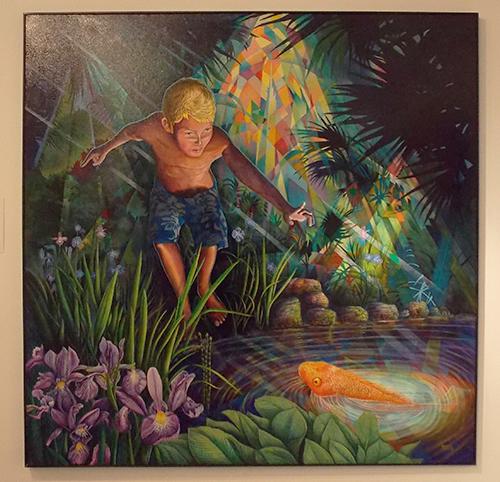 Art is alive in the halls of San Jacinto College, particularly in a tucked away corner of the East Classroom building that is home to the Central Campus art gallery. Currently, the gallery is presenting a collection of work from five campus art professors in a faculty exhibition on display until April 5.
The exhibit features the art of Professors Mark Myers, J. Todd Allison, Daniel Longtin, Michael A. Unger, and Shayne Murphy whose vibrant canvases show differing perspectives on how to view life.
Myers, also the gallery's art director, said his piece "Puer Aeternus," which features a young boy reaching out to a fish in a sunlit pond, is a rendering of multiple images.
"My intent was to create a setting for the overall scene that was recognizable and believable, as well as conveying a sense of mystery and wonder that most people could relate to their own experiences," Myers said.
Additionally, he noted, the piece's title is a reference to what he calls "a peak experience."
"Hopefully, we all have, or will have, a peak experience, an experience of ecstasy, wonder and awe, so that one is transformed and strengthened in his/her daily life and experience," he said.
However, the exhibition is not limited to topics of childhood excitement; rather the artists present a gathering of diverse human perspectives. "Ghost in the Machine," another piece by Myers, moves away from colorful boyhood wonder to a darker image of skeletons in the foreground of industrialism.
"The meaning behind 'Ghost in the Machine' deals with the idea that however confident we are with our preconceived ideas and technology," he said, "there is always something lurking out of sight that can overturn our expectations."
The faculty exhibition is on display until April 5 in Room 119 of the East Classroom building (C4) on the Central Campus.
View Comments (2)