Coyote Soccer 'Ready for a Battle' at District Championship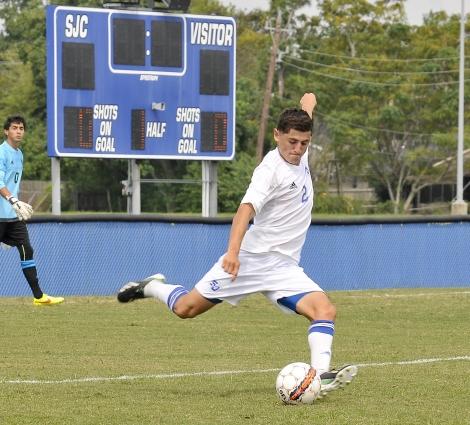 San Jacinto College Men's Soccer is on its way to the District Championship after beating Coastal Bend College 3-2 at the Region XIV tournament on Oct. 29.
The team's performance at the South District Semifinals will determine whether they advance to the National Championship in Tyler, Texas in mid-November. The Coyotes reached second and third place during past seasons, but Assistant Coach Pablo Reyes said he has high aspirations for a national title in 2016.
"We hope this year will be the first," Reyes said.
In preparation for the upcoming matches, trainer Carie Mueller said the team would continue the same routine that brought them this far, intense practices at the beginning of the week and switching to a more tactical focus closer to the game.
"Nothing will change," Mueller said. "The guys are used to what we are doing."
In addition to their rigorous training before the tournament, the team was encouraged to avoid any activities that may result in injury.
"No pickup basketball, 4-wheeler riding, etc., just to ensure they aren't hurt, doing something else, for our season," Mueller said.
Now past regionals, the Coyotes are focused on the District Championship, taking place Nov. 4-6, by working on containing the opponents strengths and exposing their weaknesses.
"The best way that we prepare for any team is making sure we are playing our best brand of soccer," Reyes added.
Moreover, he noted, one of the team's greatest strengths is the ability to change positions without much difficulty.
"We have that luxury to move players around and not have to rely heavily on any players in particular," Reyes said.
Although winning the National Championship is the team's ultimate goal, Reyes said the Coyotes are not getting ahead of themselves and prefer "to take it one game at a time."
"The team is focused and ready for a battle," Reyes said. "We understand it is going to be a tough game no matter who we face."
San Jacinto College Men's Soccer will take on Hinds Community College Nov. 5 in the South District Semifinals taking place in Raymond, Miss. Game time is TBA.
Leave a Comment