Wind Ensemble Concert Debuts New Director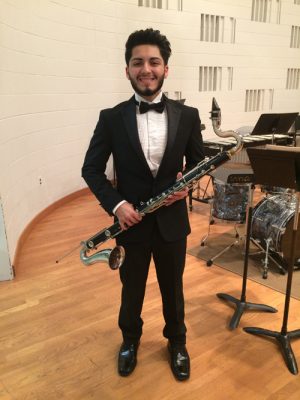 The San Jacinto College Central Campus Wind Ensemble performed their first concert of the semester Oct. 20 marking Graham Tobin's debut as the ensemble's new director.
According to the concert program, Tobin attended the Queensland Conservatory where he received a Bachelor of Music and went on to receive a Master of Music from Northwestern University. He was the Director of Bands at The John Cooper School before joining the Central Campus faculty this semester as an adjunct professor, teaching Wind Ensemble and Music Appreciation classes.
Additionally, Tobin is in charge of organizing the ensemble's concerts, from choosing the musical selections to preparing the hall. When picking the music, Tobin said he looks for "a good mix of pieces that will provide a contrast, so it's not all one type of music or style."
The concert featured a diverse lineup of four musical pieces, beginning with "Arabian Dances."
"The style is Arabian-inspired, so it has a lot of drums and ethnic instruments," Tobin said. "You get a lot of different sounds, scales, and harmonies."
"Dusk" followed, a programmatic piece that Tobin said suggests "the way that the sky changes through the sunset."
Moreover, he added, "Dusk" is a challenging piece for students, yet beneficial, because it teaches them the musical skills they will need later in their careers.
"This piece really gives the players the grand scheme of things," he said. "It starts off very slow, smooth, and subtle, then goes into these massive crescendos and big moments."
According to Tobin, the third piece "Second Suite in F" is a wind ensemble repertoire standard and an important educational opportunity for aspiring musicians.
"This multi-movement work is a very traditional and famous band piece that all wind ensemble students should play within their lifetime," he added.
As a finale, the Wind Ensemble closed with an energetic piece titled "Powerhouse" that Tobin claims "defies explanation."
"There's no way you can't enjoy this piece," he told the audience.
Meanwhile, bass clarinet player Chris Salas said the Wind Ensemble is already working on its next performance, a showcase of music by American composers.
"There's a lot of preparation and work that goes into each concert," Salas said. "I really hope our hard work pays off and that the audience enjoys our performances and gets quality music. That's all that matters."
The next Wind Ensemble concert takes place at 7 p.m. on Nov. 30 in Corbin Hall of the Monte Blue Music Building (C5) on the Central Campus. The event is open to the public, and there is no charge for admission.
Leave a Comment