Concert to Showcase Music Department's New Pipe Organ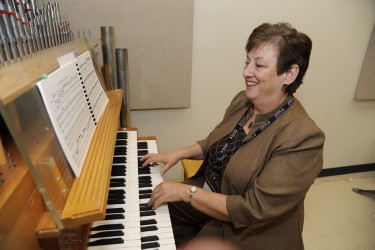 The San Jacinto College Central Campus Music Department received a new Johannes Ecclesia digital organ as a gift from Dr. B.J. Westbrook, a local music-lover. To honor the donation, the department is featuring the organ in a year-long concert series. The second concert will be performed by music professor Dr. Martha Braswell on Oct. 27.
Braswell has played the organ for forty years, and in spite of facing many time restrictions while preparing for this concert, she said she made time to find her way around the newly acquired gift.
"I have played many concerts, but every organ is very different," Braswell said. "So, not only am I adjusting to the 'feel' of the instrument but trying to perfect the music I have chosen to play."
At the moment, she noted she had not yet selected the music for the upcoming concert.
"I change my mind about which pieces I will be performing," she said, "and the pieces I have chosen continually are revised as to its sound."
Meanwhile, Braswell said she wants to showcase the department's new instrument and show the donor how much they appreciate his gift.
"I hope that this community, which does not have an instrument of this caliber," Braswell said, "will come to hear what a wonderful sound this instrument has and how extraordinary it is that we, at San Jacinto College, have this instrument for faculty to perform on and the students to learn on."
Furthermore, she noted that it is increasingly difficult to find professionals proficient enough to play the organ for local worship services, and she hopes San Jac will be able to train students to fill that gap.
"I hope that more people will attend and come to love this beautiful instrument," she said. "Also, that I can develop an interest in our students in learning how to play this instrument."
The Solo Organ Concert will begin at 7 p.m. on Oct. 27 in Corbin Hall of the Monte Blue Music Building (C5) on the Central Campus.
Leave a Comment