Lynsi's Lineup: Keep an Eye on Buddy after the Madness Ends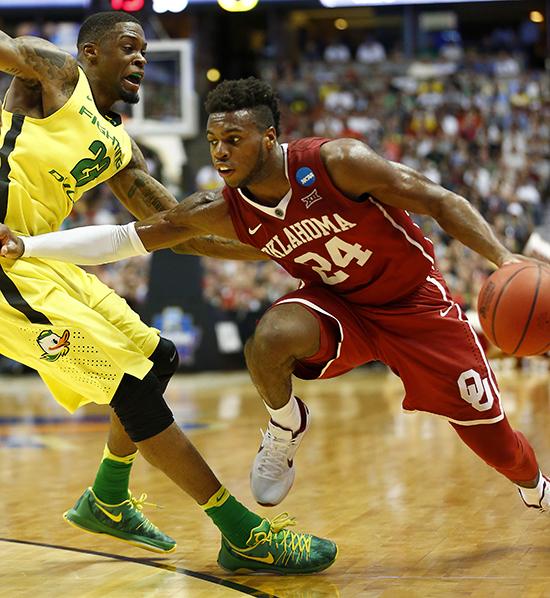 March Madness is both a beginning and an end. Its arrival marks the beginning of post-season playoff action, as well as the end of college basketball careers for most players in their senior year. However, there is one senior to keep an eye on because this man is far from the end of his career.
Chavano "Buddy" Rainer Hield is a 22-year-old Bahamian-born college student playing for the Oklahoma Sooners. The six-foot-four guard proudly wears the number twenty-four.  Who wouldn't be proud when they average twenty-five points a game?
A career high point came in 2015 when Hield won the Big 12 Player of the Year title, but his list of accomplishments is much longer. In middle school, he was rated the best eighth-grade player and "a player to watch" by the All Bahamian Brand, a basketball magazine in the Bahamas. He moved to the United States during his junior year of high school to attend Sunrise Christian Academy in Kansas. He was very successful during his senior year averaging twenty-two points a game and roughly twenty-one minutes of playing time. In high school, Hield was ranked eighty-sixth in the nation, and named the seventeenth best shooting guard by Rivals.com, a college sports news site.
In contrast, his college career had a rocky start when he broke a metatarsal in his foot during his freshman season and missed five games. He averaged only about eight points a game. But, his sophomore season improved. He started all thirty-three games and averaged sixteen points a game. But during his last two years, Hield just exploded leading the team to victories and averaging double digits.
Although his athletic success is evident, that's just part of his story. According to University of Oklahoma's athletics website, SoonerSports.com, Buddy dreamed of becoming a successful basketball player from a young age and worked hard to achieve his goal. Growing up in the Bahamas, one of seven children to a single mother, he collected crates and other wood from his neighbors' yards to build basketball goals for himself.
Now, Hield's mother, Jackie Swann, lives in Norman, Oklahoma where she moved to be near her son during his last year of college. The University of Oklahoma's student publication, OU Daily, reported that Swann stays in the dorms with Hield and his roommate Isaiah Cousins.
Hield led the Sooners to the Final Four and might possibly lead them to the championship game April 4. As of press time, Oklahoma will face Villanova April 2 for a shot at the coveted national title. Even if they don't make it to the end, he is a player worth talking and writing about. My opinion is, he will be drafted within the first thirty picks. The tournament is over April 4, but Hield's journey is far from ending. This is only the beginning.
Leave a Comment