Lynsi's Lineup: Johnny Football Should Take a Page From Newton and Miller's Playbooks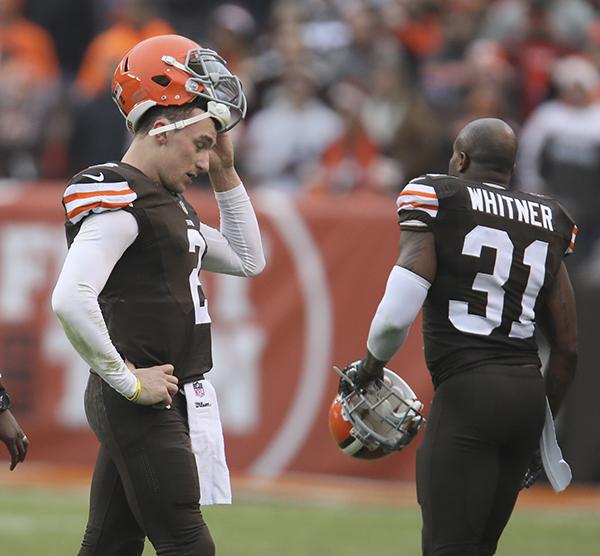 Many football fans, including myself, predicted Johnny Manziel would become a top contender after entering the NFL. He seems to be doing quite the opposite of what was expected.
Two years passed since the NFL drafted him, and he has done nothing spectacular with the exception of a few high-profile run-ins with police. Even during his college years, he was in trouble; arrested and charged for failing to identify himself to officers when they arrived on the scene of a bar fight. As of press time, Manziel is the subject of an investigation stemming from a domestic assault claim involving his girlfriend, in connection with a Jan. 29 incident. Most likely, the Browns will cut him in March after only two years.
As a promising college freshman, he won the Heisman Trophy, the Davey O'Brien Award, and the Manning Award. After his success at Texas A & M, we expected he would grow from there. Although Manziel's college partying and brushes with the law were well known, the public did not care because of how well he performed on the field.
Once he entered the draft and realized he was making it to the pros, he should have left all the childishness in college. Manziel's name was already well-known, but the NFL meant more eyes were watching him. Because that's the case, focus on your job, love what you do, set a good example, and try to break some records while you're at it! That is how I see it.
I probably should not compare the two, but I will. Cam Newton is a successful NFL quarterback recently appearing in the Super Bowl. Newton's road to success was not the easiest. He attended the University of Florida and while there, was arrested for stealing a laptop. Also, he was caught violating school rules and faced possible expulsion for cheating on assignments. Afterward, Newton transferred to Blinn Junior College, and again to Auburn. He entered the league at 22, a year older than Manziel, but has not messed up since.
I believe everyone has temptations. Especially for someone young, with money, and a big name. It is easy to get caught up in the glamour.
Similarly, Von Miller, also a young NFL player, received a six-game suspension for violating the NFL's substance-abuse policy and was arrested for missing a court appearance, both in 2013. Two years later, he was named Most Valuable Player of Super Bowl 50.
"The message is for Johnny," Miller told media cameras after Denver's win. "I want to see you do good. My heart goes out to you buddy. Come on, let's get it right, Gig 'Em. The sky is the limit. When you get back, the sky is the limit."
If Manziel wants to continue playing, he has to get it together. The charges may be different, but just like Newton and Miller turned it around and became successful, so can Manziel.
The only question is, what team will take Manziel under its wing?
Leave a Comment