WOI Presents Performance Specialist for Women's History Month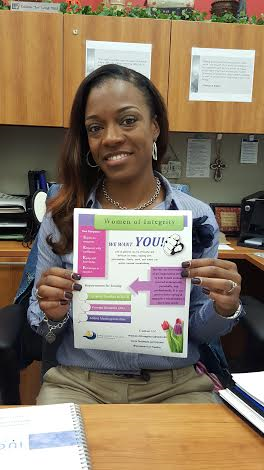 San Jacinto College Central Campus's Women of Integrity (WOI) is hosting "Accelerate" March 10, an event commemorating Women's History Month.
Head of Technical Services for District Libraries, Telishia Long, who also serves as a WOI advisor, said she encourages all women of San Jacinto College to attend the event.
"We want to empower women to accelerate in all that they do," Long said.
The event features guest speaker Mae Johns Francis, an Improving Human Performance Specialist, who claims her life goal is to "enhance the lives of others," as stated in a brief biography provided by the College. The presentation consists of a mixture of lecture and student collaboration.
According to Long, Francis proved popular with the North campus community.
"She has attended past WOI events and was requested, by demand, from staff and members of WOI," she said.
Francis' last presentation of individual integrity and self-esteem impacted members of WOI to the point where they brought her back for Accelerate.
Meanwhile, Long noted there are only three requirements to join WOI, one must be female, enrolled at the college, and attend WOI activities.
"As per our flyer, our goal is to expose women to resources, empower them with confidence, equip them with knowledge, and encourage them to succeed both academically and in their personal life as well," she added.
WOI originated on the North campus after the success of its male-oriented counterpart, Men of Honor. The women's organization began with 30 students, 42 mentors, and four advisors. The group grew to include chapters on the three San Jac campuses.
However, Long said WOI is searching for new lady scholars to become mentors and advisors.
The Director of Diverse Student Populations, Ronald Hopkins, said the aspiration for WOI is one of growth.
"The future of Women of Integrity involves expanding our visibility and participation at each campus," he said, "as well as collaborating with other organizations around campus."
Accelerate will take place March 10 at 11:45 a.m. in the Lee Davis Library of Central campus in Room C21.163.
Leave a Comment