San Jac Bids Farewell to Beloved Spanish Professor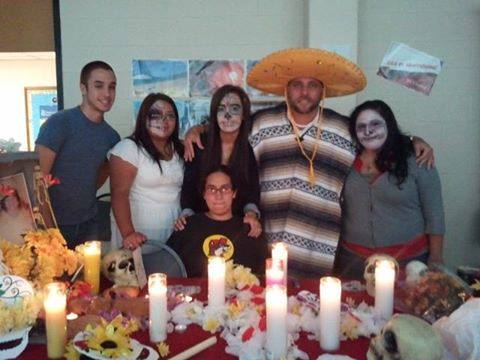 The San Jacinto College community came together Nov. 18 to celebrate the life of modern language professor Jose Antonio Robles-Rosario.
Robles passed away unexpectedly Nov. 10 in Pasadena, Texas after experiencing a medical emergency. He was 51.
The dimly-lit ballroom of the Student Center on the Central campus was filled with emotion as a slide show presentation replayed moments from Robles' time at the College.
"It was very clear when talking to his family he thought this was the best job ever," Chancellor Brenda Hellyer said. "Singing, dancing, and excitement are what came out of Robles' classroom."
All were invited to speak in memory of Robles, a professor who was "passionate" and "wonderful" according to the Chancellor.
He was known well among his colleagues as someone who went out of his way to help everyone understand Spanish culture by adding a spark to bring it alive, San Jac professor Karen Boyce said.
Former and current students also were in attendance to celebrate the life of Robles, sharing stories they did not think they would be sharing so soon.
"Whenever I went into his classroom I always felt safe," a current Spanish 1411 student, who identified herself as Sarah, said. "I always felt welcome, even if it was just by him."
Robles graduated with a master's degree in Bilingual Education from the University of Houston, after receiving a bachelor's degree in Modern Language at the University of Puerto Rico. He came to San Jac in 2006 as an adjunct professor and became full-time faculty in 2010.
According to fellow Spanish professor Hildegart Cooper-Hoquee, Robles' interview was a little more standout than that of the other 15 candidates vying for the position he eventually attained.
"He came to his interview with poster boards and bongo drums," Cooper-Hoquee said as the crowd laughed.
The celebration was capped off by a choir performance, poetry readings, and a video presentation by the Student Government Association. A candlelight vigil followed.
"He came in and took the room by storm with a passion that is unrecognizable," Central campus Provost Van Wigginton said. "He embodied everything we wanted for our community… We were blessed to have a man like Jose."
Leave a Comment