Ravens Basketball Rebuilds with Multinational Roster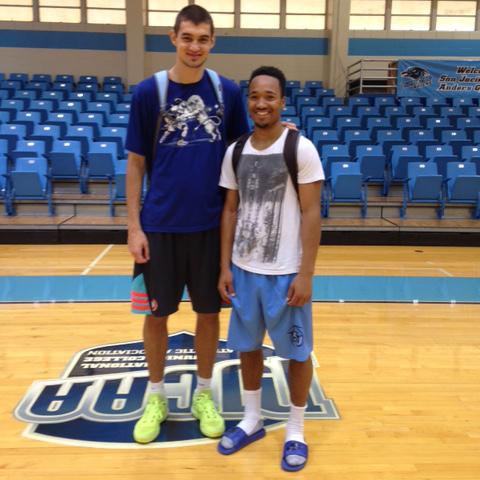 San Jacinto College men's basketball coach Scott Gernander is going into his fourth season as head coach focused on rebuilding the Ravens with seven new freshmen and only two returning sophomores.
According to Gernander, he, along with his team, is ready for the challenge thanks in part to a diverse talent pool hailing from points around the globe that include Russia, Turkey, Angola, Portugal, Maryland, and Maine.
Entering freshmen eager to improve are Elroi Butler, from Israel, and Konstantin Kulikov, from Russia. Though from different backgrounds, the current roommates played together for some time before attending San Jac. The two met in Spain while taking part in a basketball program that develops players' skills so they can play competitive basketball in the United States.
Although new to the Ravens, Butler said his energy can contribute to the team's success this season. "… I definitely want us to push each other. This process is going to be a team effort," he said.
Moving forward, Butler said, there is a plan in place to correct and develop his game, and as a result, he is nothing short of motivated.
"I am a point guard," he said, "so seeing everything clearer is my goal personally. My court vision is something I will work on to improve my game. I want to develop and be a more physical, stronger player."
Similarly, with the help of his long arms and quick feet, Kulikov, a 7-foot center said he realizes the importance of personal development and is ready to put in the necessary time on the court.
"I too want to become a more physical player," Kulikov added, "and correct my jump shot."
Meanwhile, the Ravens still have a lot of work ahead this winter, but Gernander said the players have a chemistry that shows great potential.
"This season I will spend more time teaching with longer practices," he said. "The guys are a great group, and everyone gets along very well. We just have to get them to be more vocal on the court."
Furthermore, the coach said strength and endurance are major factors in basketball, as they are in any sport.
"When the guys started our preseason workouts, they were out of shape," Gernander said. "We had to get them in shape with conditioning and weights. I feel we are in a better place going into our first preseason game Oct. 31."
Although confident, Gernander said he is not without concerns.
"It's our transition to defense; we are thinking too much, and the guys are staying in their own heads," he said, "We have to be quick getting back to the ball on defense."
Simply put, Gernander likens the Ravens' season to the tiers of a wedding cake where players work their way from the base, in preseason workouts, up the layers of scrimmages until reaching the peak of the cake.
"One team out of 210 can win the national championship," he said. "That's our top of the cake. We will play for this goal every year."
The pre-season opener will take place Oct. 31 in Plano against Howard College. Conference games start Nov. 21 in Corsicana against Navarro College.
Leave a Comment