From Deployment to Classroom: Vet Speaks out on Major Transition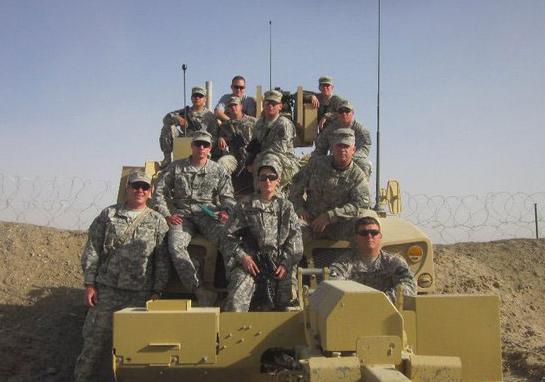 Inspirational stories of dedicated students are plentiful at San Jacinto College. One such story is that of United States Army veteran Oriana Franklin.
Prior to attending San Jac, the mother of one spent several years in both the Army and the reserves before landing in the rugged terrain of the Afghan mountains.
"I was stationed at Ft. Bragg, N.C. for four years and Conroe for two years as a reservist," she says. "I did a tour in Afghanistan (between) 2010-2011 where I drove an MRAP around southern Afghanistan during my deployment."
Since her days in the 525BFSB unit of the U.S. Army, Franklin has worked toward her goal of obtaining a degree in nutrition, as well as adjusting to civilian life. Franklin, now in her second stint at San Jac, plans to obtain a general studies associate's degree before transferring to a four-year university.
"In 2013, I completed the EMT basic program here at Central (campus)," she says. "I am planning on transferring to Texas Southern University in the spring for a Bachelor's of Science in Nutrition. The Army was a major stepping stone for my passion in life."
Franklin credits her military experience, as well as her interest in health, as the foundation for academic success.
"I was ready to go to school when I couldn't stop thinking about how I wanted to impact people with a simple change of lifestyle," she says. "That's why I am taking general studies (classes) to have another step towards my goal."
Franklin is a self-described "health nut" who loves "anything outdoors, a good workout, and a good book."
However, she says she is grateful for the chance to go to school to achieve her objectives.
"I am thankful for being able to have the opportunity to study and get the education I need to be able to support myself and my daughter," she said.
Franklin's advice to those afraid of returning to school is to believe in themselves.
"Don't let any negative thoughts take up your head space," Franklin says. "If you really want it, then take the step to get it. You are worth it."
Leave a Comment