Annual Symposium Embraces Britain's Brett Baker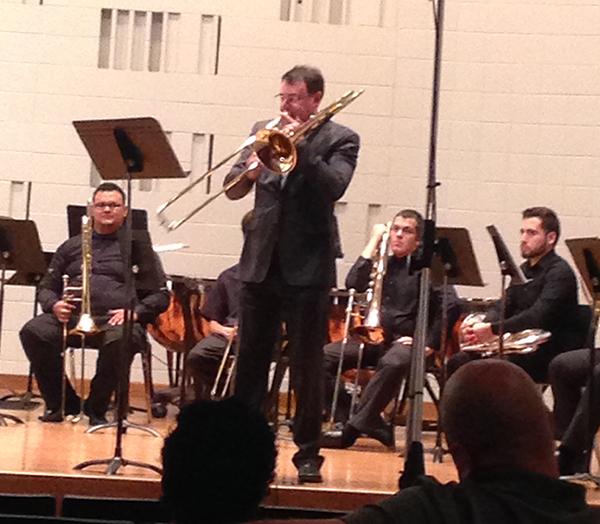 Trombone soloist Brett Baker stole the show during San Jacinto College Central Campus's Brass Symposium April 10 and 11 at Corbin Hall. The performances featured numerous acclaimed artists along with the SJCC Brass Choir and SJCC Faculty Jazz Trio.
Baker's appearance at the Symposium was possible thanks to music professor and conductor, Karen Marston, who organized the two-day event. The San Jac community may not be familiar with Baker's work, but he is well-known and highly regarded in international music circles. He hails from the United Kingdom and has performed as a trombone soloist for 15 years, in addition to lecturing at the University of Salford.
Baker said he accepted Marston's request because he wanted to "promote the trombone and introduce new music to Texans." Also, the idea of traveling to Texas intrigued him.
"Through communicating with Karen Marston and having never been to Texas before," he said, "I wanted to visit."
Furthermore, Baker said he believes the performances are memorable because of the caliber of the musical lineup.
"I very much think this concert will be different because of the variety of the artists that are attending and variety of music."
In addition to Brett Baker, the musical showcase included Resonance Brass Choir, Omni Brass, as well as artists from the Houston Symphony, San Antonio Symphony, and the Houston Grand Opera. Also in attendance were musicians representing Louisiana State University, University of Texas, and Texas A&M Corpus Christi.
Likewise, Marston agrees the Symposium is distinctive because of the nature of the musical performances.
"This is a large-scale event featuring multiple artists from around the world, and it is completely unique within our region," Marston said. "There are no other events that bring together this level of talent and creativity from within our field."
Moreover, Marston, who hosts the Brass Symposium every other year, said
"Public musical events such as this one provide a highly visible and dynamic path for the college to connect with the surrounding community."
Marston said she believes this and other similar events serve a creative and educational demand in the Pasadena region.
"While we certainly meet a cultural need within our area by providing high-quality artistic programming," Marston said, "we also couple these events with significant pedagogical activities aimed at enhancing the musical experiences of students in local schools."
Also, San Jac student, Alyssa Shotwell said she attended the event because of her teacher, Marston, and for the fact that she enjoys these performances.
"The last concert I went to was Steel Drum Choir, and they had this big thing with guest stars," Shotwell said. "I know some of the people that are here are from the UK. It's all very exciting."
Similarly, San Jac student, Patrick Eyuen said he attends events like this because of the perseverance and hard work that goes into the presentation.
"I think these shows are very significant because of the musical practice involved; previous performances were a good experience. "
Ultimately, Marston said she feels the Symposium is entertaining because of its broad appeal to the entire San Jac community.
"This concert is for everyone," Marston said. "A primary mission of the Resonance Brass Choir is to appeal to wide audiences, so programming is aimed at diversity, excitement, and energy."
Leave a Comment