Anxiety, Addiction, Anorexia are Center Stage at North Campus Psych Expo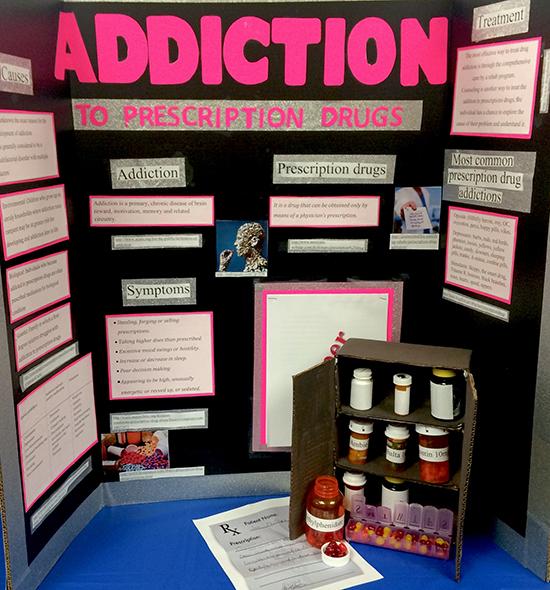 Alumnus Oliver Perrett began his pursuit of higher education at San Jacinto College. For an introductory psychology course, Perrett was required to research a relevant topic of his choice and put together a project for the 2011 Fall Psychology Expo. He chose to concentrate on hoarding disorder.
"When I first learned about hoarding, I thought it was just people who couldn't throw stuff away," Perrett said, "but you realize that there is an actual emotional attachment to their items. It's kind of like throwing something personal away."
For several years, the students of San Jac's North campus Behavioral and Social Sciences Department have created similar projects for display at the Expo, held every semester.
"Basically, it started as General Psychology students researching a psychological topic, writing a paper, creating a display poster, and adding some original creation that goes along with their topic. Over time, it's kind of evolved," Department Chair Darla Rocha said.
According to Rocha, this year's expo, held on March 11 and 12 in the North campus Slovacek Student Center, included student projects from several different psychology courses including Learning Framework, General Psychology, Lifespan Growth and Development, and Introduction to Social Psychology. The students covered numerous topics including addiction, eating disorders, stress, sleep deprivation, obesity, and bipolar disorder.
"This spring, we have 199 posters which is a pretty good number. In the fall, we typically have more. I think the most we've ever had was close to 250 in one Fall semester," Rocha said.
Rocha explains the Expo began in 2007 as an alternative to lengthy essays. She said she hopes the assignment "gives students the chance to be creative and innovative with the project and to use some of their artistic skills."
However, Rocha admitted the idea for the expo was not only in the interest of the students.
"Before we started doing this (students) had to write like an 8-page research paper and we hated grading those. So instead, we reduce the paper to three pages and they create the poster to go with the paper," she said.
Meanwhile, the students who participate in the expo compete for the chance to display their project in the Burleson building throughout the semester. The professors vote using color-coded sticky notes.
"We always have a first, second, and third place, and then we have honorable mentions," Rocha said. "And what we're looking for when we vote is: Are they following the criteria? Is it neat and organized? Is it informative? Somebody that knows nothing about the topic, can they learn by looking at and reading what's on the poster?"
Furthermore, the expo, which is free of charge to all visitors, is not only beneficial to the psychology students and professors. Students Jatara Lomax and Regina Robinson browsed this year's projects at the request of their Advanced Nursing Skills professor.
"Ms. Austin told us to meet here," said Lomax, "She came last year and said it was really good. She recommended all of us come and stop by."
Robinson gestured toward a poster and added, "I think this is a great idea to have this up, because you can see a lot of different things that we actually cover in our class. Bulimia Nervosa, that's something we're going to cover."
In addition to coursework, Lomax said she feels these projects relate to the issues students deal with in their everyday lives.
Back in 2011, Oliver Perrett's project on hoarding won first place at the expo. Perrett said he recognized many of this year's projects from students he assisted in San Jac's Student Success Center, where he works while he pursues a graduate degree in Psychology at the University of Houston.
Leave a Comment