North Campus Menswear Drive Aims to Promote Professional Appearance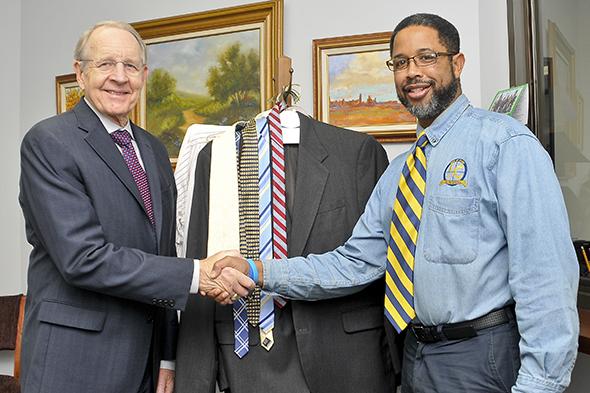 San Jacinto College North Campus's Men of Honor (MOH) organization will accept donations of professional men's clothing until the end of March to benefit students in need of appropriate attire for conferences, job fairs, and interviews.
According to its director, Ronald Hopkins, MOH is a mentoring-based organization created as a solution to the "poor attendance, performance, and graduation rates" of at-risk students within the District.
The Organization is designed to "support, motivate, and assist male students, with a special emphasis on males of color, who attend the three San Jacinto College campuses to be retrained and progress towards graduation," Hopkins said.
In addition to MOH's North campus Career Closet, a portion of the donations will go to Cenikor, "a residential treatment facility located in Pasadena," Hopkins said.
Meanwhile, Hopkins indicated he hopes the drive will bring in scarce men's clothing items although they will also accept women's attire.
"We are in need and are asking for suits, sport coats, shoes, shirts, ties, and belts," Hopkins said.
MOH has sponsored clothing drives at all three campuses, for the past four years, which are commonly referred to as "Drop and Swap."
"This year, we decided to focus our drive primarily on professional interview-type attire," Hopkins said.
According to San Jac's website, the drive already received a large donation from local attorney Daniel Snooks. Snooks is an attorney practicing in Texas for many years, has served as General Counsel for the College since 1991, and attends the Board of Trustee's meetings each month along with Hopkins.
"Mr. Ronald Hopkins has been instrumental in providing guidance to the Board of Trustees for San Jacinto College, and to my office, as to the need for clothing for students to attend San Jacinto District functions, educational seminars, and job interviews," Snooks said, "It has been my privilege to assist the students within Men of Honor."
Furthermore, next year MOH and the Women of Integrity, a similar organization geared toward female students, will begin a project to establish Career Closets at the South and Central campuses.
"At that time, we will be looking for students to assist with contacting local businesses regarding donations, services, etc., that will help get these rooms stocked, manned, and operational," Hopkins said.
Hopkins added, he encourages students to contact him if they are interested in meeting like-minded students and becoming successful by joining the Men of Honor or the Women of Integrity groups.
Clothing donations can be dropped off in room N7.226 in the Burleson building at the North campus. For further information, Ronald Hopkins can be reached at [email protected]
Leave a Comment