SJC Alum Gets A-Listers Red Carpet Ready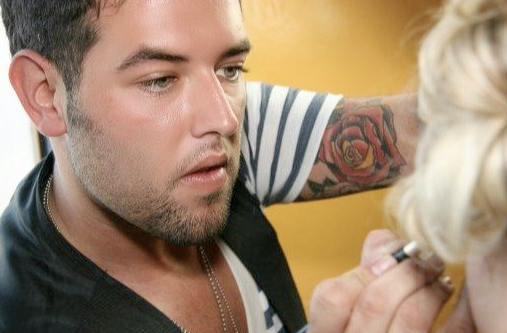 Two a.m. alarm sounded from a New York City apartment as San Jacinto College alumnus Billy Mercer would awaken for another busy morning at the office. But, for this former San Jac student, the office wasn't just a cubical; it was the set of Early Start and New Day at CNN.
Mercer is one of many San Jac alumni who used their SJC education to catapult into many successful careers.
"The educators I had were very instrumental in the success I have achieved since leaving school," Mercer says. "I felt I was allowed to be the type of stylist I was going to be in the real world."
Though Mercer initially attended San Jac with the intent of doing hair, his career goals took a shift after classes began.
"I knew as a little kid that I loved having my hands in hair, my mom's friends actually starting wearing their hair in ponytails whenever they came over to our house," Mercer says. "It wasn't until cosmetology school that I played with makeup for the first time."
Following enrollment into San Jac, Mercer let the dream of doing hair go to focus more on makeup.
"I've been hooked ever since. One of my greatest joys is to give women a fresh perspective on their personal beauty, allowing them to realize how gorgeous they truly are," Mercer says.
In addition to being the key makeup artist for early morning broadcast hosts Christine Romans, Kate Bolduan, and Michaela Pereira, Mercer has a decorated resume of celebrities and networks he worked for.
"Besides working at CNN, I also worked on shows for SPIKE TV, Bio, A&E, and E!," Mercer says. "I also kept my feet firmly planted in the editorial and fashion world doing makeup and hair and national magazines. I was quite busy."
Even while working for big name networks, Mercer often finds himself star struck from what his career has rewarded him.
"I have definitely had to pinch myself many times with the people I have worked with in my short career," Mercer says. "Former President Bill Clinton, Christy Turlington, Anderson Cooper, Mark Walberg, Norah Jones, Emmy Lou Harris, Geena Davis, Joe Jonas, Norman, Reedus, and Christiane Amanpour to name a few."
Following a stint of touching up celebrities and former presidents while living in Los Angeles and New York City from 2005 to 2014, Mercer relocated to Austin, Texas to launch his own business.
"After working for CNN for 3 years, I moved back to Austin in August and have focused all of my energy into launching my business," Mercer says. "I just launched LIP SERVICE, beauty concierge. We are an in-home beauty service that delivers glam to your door."
Mercer's life has moved at a slower pace since the move back to Texas though he says he has more free time now.
"Travel is my favorite past time, even if it's just a weekend road trip to the country," Mercer says. "I love reading, live music, and enjoying my family and friends. I have been away from my family for almost 10 years, so now I'm playing catch up with them."
Mercer notes that even though he has time to enjoy his life more now, it's still chaotic with his new business, but he says that he enjoys not waking up at 2 a.m.
Leave a Comment